The swift progress of augmented reality (AR) technology has paved the way for an exciting future in the retail industry. In essence, the way we shop is undergoing a transformational shift.
By embracing AR and using it to enhance the customer experience, retailers can stand out in a crowded marketplace, drive sales, and build brand loyalty.
Now is an ideal time to implement AR technology and take advantage of the novelty factor it holds in the eyes of customers. Consider these facts: 
Businesses that offer branded AR experiences are

41%

more likely to capture the attention of consumers than those that do not provide such experiences

A significant majority,

66%

of individuals, express their interest in utilizing AR technology to aid them while shopping

By 2025,

76%

of consumers anticipate using AR as a practical tool in their daily lives
AR is already enhancing the retail customer experience, in areas ranging from product visualization, virtual try-ons, in-store shopping, displays, and brand campaigns. We'll take a look at some of the examples out there, and how the technology might further evolve in the near future.
Product visualization
In the past, shopping for large and intricate items that are subject to personal taste has been a complex and time-consuming process – since customers had to physically visit a retail store or showroom. However, businesses have recognized the need to simplify the shopping experience and have started implementing AR features that allow customers to visualize and project various products. 
AR has emerged as a powerful tool that assists shoppers in visualizing products in a more immersive and realistic way, all from the comfort of their own homes. With AR technology, customers can now see how products would look in their living spaces, providing a whole new  level of personalization and convenience.
IKEA Kreativ: making furniture shopping effortless
With IKEA Kreativ, customers can take advantage of advanced technology to create a complete 3D replica of their room. The process involves scanning the room with LiDAR technology, which is integrated into iPhones. Once the scan is complete, customers can easily remove their current furniture and explore new products.
This feature provides a precise visual representation of how new furniture will look and fit in their home, without the need for bothersome physical measurements. It takes the guesswork out of furniture shopping and offers a convenient and hassle-free way for customers to redesign their living spaces.
Toyota embraces AR for next-level car customization experience
Shoppers looking for car accessories have frequently voiced their dissatisfaction with the scarcity of point-of-purchase materials and limited accessory choices. Dealerships often lack brochures or visual aids to showcase available accessories, while websites may have outdated images.
In response, Toyota developed an AR application that incorporates advanced technologies such as machine learning and Apple's ARkit, allowing customers to effortlessly recognize their vehicle through the camera system and add computer-generated accessories without the need for markers or images on the car. Overall, this AR solution provides a more immersive and user-friendly shopping experience for car accessories customers.
What's coming next:
It's reasonable to assume that the existing object visualization functionality will be extended in the future. For instance, by adding new features such as machine learning algorithms to analyze the available space and suggest the most suitable combination of various items that could fit. In essence, we can anticipate a future where object visualization completely eliminates the tediousness of measuring objects and spaces manually.
An immersive "try before you buy" experience
By using AR, consumers can virtually try on products and see how they look on themselves or in their surroundings in real-time. This feature has been particularly beneficial for products like makeup and clothing, as it allows shoppers to visualize how they will look or fit before making a purchase. Consumers can experiment with different products and styles without the need to physically try them on or visit a store. 
Research indicates that the use of AR in shopping can improve the perceived informative nature and enjoyment of the shopping experience. By using AR, consumers can better understand the product features, size, and fit, which can reduce the likelihood of product returns and increase customer satisfaction. Plus, the interactive and engaging nature of AR can make the shopping experience more enjoyable and memorable.
Amazon's AR technology helps customers visualize shoes
The online giant Amazon has incorporated AR technology to enhance the online shopping experience. Recently, the retail giant unveiled a new feature called Virtual Try-On for Shoes that enables customers to visualize how a pair of shoes will look on themselves from multiple angles by utilizing their mobile phone's camera.
To use the Virtual Try-On for Shoes feature, customers only need to point their mobile phone's camera at their feet, and the AR shoes will appear on their screen. With the included functionality, shoppers can quickly swap out the colors of the same style of shoes plus snap a photo of their virtual try-on session, which they can save on their device or share on social media.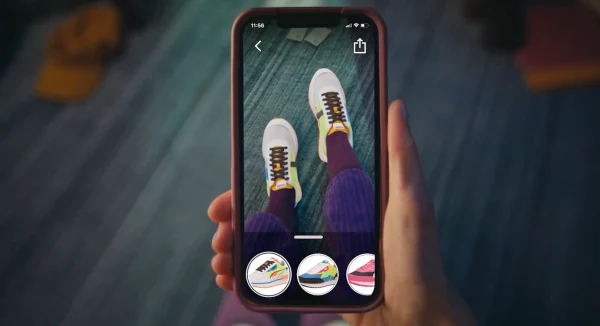 Personalized skin care recommendations with Vanity Planet's Skin Reporter
Vanity Planet has launched a tool, Skin Reporter, which aims to evaluate the topical health of one's skin in just 30 seconds.
Skin Reporter uses advanced scanning technology to analyze a person's skin and identify key factors such as oil, wrinkles, dryness, and texture. Based on the analysis, Skin Reporter generates an overall score and age for the skin, allowing customers to better understand their skin's condition. The tool provides personalized recommendations based on the score, ensuring that customers find the perfect product to suit their needs.
What's coming next:
The current use cases of AR mostly involve visual experimentation with products, but there is no reason to limit its potential to just this aspect. In the future, AR could be expanded to incorporate other human senses, such as smell. It's intriguing to consider the possibility of AR becoming even more engaging and immersive – and further enhancing the overall customer purchasing experience.
Using AR to gamify in-store shopping
It could be argued that, at present, AR is predominantly employed for entertainment purposes. In fact, the success of the Pokémon Go AR game back in 2016 played a significant role in popularizing the technology and its applications. Given this, it's natural to wonder what would transpire if businesses incorporated AR gaming elements to augment the in-store customer experience.
Younger consumers, who are familiar with the gamified AR concept from popular mobile games, will intuitively understand how to interact with the AR experience. For that treason, integrating AR gaming elements into the retail shopping experience is a brilliant move that brings together two seemingly distinct worlds.
From chore to adventure: Tesco's gamification of shopping
Tesco, a UK-based supermarket chain, has adopted a playful approach to shopping by integrating AR features into its Tesco Discover shopping app. 
Customers can participate in the "Big Night In" family quiz game –  a feature that encourages customers to scan physical products and unlock the game, where they can engage in challenges that test their knowledge and earn rewards such as scoring, trophies, and even forfeits. They can also share their achievements with friends and family on social media platforms, transforming shopping into a social activity.
Adding a twist to the 19 Crimes wine brand with AR
19 Crimes wine marketing campaign incorporates augmented reality technology and gamification to offer a unique and immersive experience for their customers. 
With the "Living Wine Labels" augmented reality application, customers can witness the men and women featured on the bottles come to life and share their harrowing stories in their own words. These unique characters and their captivating stories motivate customers to "collect" all 19 bottles of wine, elevating the wine shopping experience with an interactive and enjoyable twist. However, it's strongly recommended not to consume all 19 bottles at once!
What's coming next:
The integration of AR gamification into retail shopping has yet to reach its full potential. The future of mobile technology, with the widespread availability of 5G in urban areas, offers tremendous possibilities for retail apps with physical stores to further gamify and enhance their offerings. As retailers explore innovative uses of AR technology, customers can expect a more engaging and personalized shopping experience beyond just purchasing goods.
Creating a memorable brand identity
Augmented reality can also be leveraged by brands to engage customers beyond the point of purchase. With AR, companies can create immersive experiences that allow customers to interact with their products and services in new and exciting ways.
One of the key advantages of using AR post-purchase is the ability to effectively enter the homes of customers. By creating interactive experiences that showcase the history, values, and mission of the company, brands can create a deeper connection with their customers and foster a deeper sense of loyalty and community.
Overlyapp partners with creative agencies to produce AR-driven Christmas experiences
Two creative agencies, Skudras Metropole and Don't Panic Design, teamed up to bring an immersive event package to life, complete with interactive Christmas decorations. Featuring six AR experiences powered by Overlyapp, the decors engaged people in various activities, including AR meetups with Santa, an astrologer and stand-up comedian.
This event package offered a creative AR solution to the usual holiday expectations, freeing hosts from the pressure of organizing typical Christmas activities. In fact, the limited-edition gift set proved to be a real hit with the agencies' corporate clientele and the general public alike.
Aizputes Vīns teams up with Overlyapp to bring a festive AR experience
Initially conceived as an entertaining in-house initiative, the collaboration between Overlyapp and Aizputes Vīns proved to be a significant brand awareness booster. The project entailed personalized augmented reality wine labels that, when scanned with the Overlyapp, brought forth 3D renditions of team members who danced to a lively Christmas tune. 
The collaboration proved to be a fun and uplifting experience that heightened the visibility of the Aizputes Vīns brand. The AR aspect breathed new life into a conventional holiday custom, as clients took to social media to express their gratitude for the distinctive gift.
What's coming next:
The potential for immersive experiences that enable customers to interact with product and service brands is immense, and it's a fair assumption that the capabilities of AR to express brand identity have not yet been fully explored. At the moment, AR is mainly used to supplement traditional branding techniques. However, in the future, we can expect products designed with AR-powered features as the core of their entire identity.
Virtual navigation and in-store displays
AR has the capability to inject vitality into certain stagnant aspects of the conventional in-store shopping experience. For instance, in-store digital displays can be seamlessly integrated into the physical surroundings, enabling customers to engage with products in novel and thrilling ways, thus enhancing the shopping experience and facilitating a better comprehension of the products.
Furthermore, augmented reality possesses the potential to significantly revolutionize the way we navigate through stores. It's no secret that locating particular items within a physical store can be a tedious and exasperating process. By incorporating AR, customers can now be directed through the store in a more effective and enjoyable manner.
PacSun: AR storefront display and virtual try-ons
PacSun, a popular clothing brand, has recently harnessed the power of AR in its campaign for the spring-summer '22 collection. The campaign, which featured YouTube sensation Emma Chamberlain, showcases how AR can enhance the shopping experience for customers.
The AR-centered storefront display at PacSun's flagship store in Soho, New York, features an eye-catching video of waves crashing against a shattered storefront window, providing a visually stunning backdrop for the collection. The use of AR technology adds an extra layer of excitement and immersion to the shopping experience, drawing customers in and creating a lasting impression.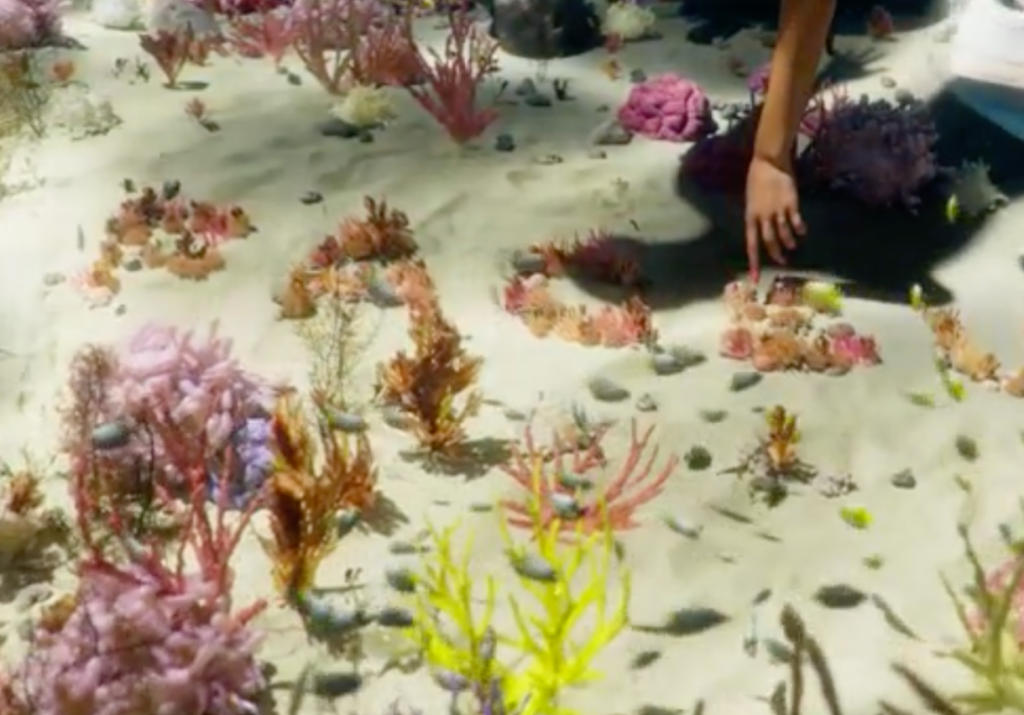 Marks & Spencer's AR app helps customers navigate supermarkets with ease
The British retailer Marks & Spencer has launched a new augmented reality wayfinding app named List&Go, aimed at enhancing the shopping experience of its customers. 
Customers can enter a shopping list of products they want to buy, and then follow an on-screen path to locate them on the shelves. When a user's smartphone is held up, the app uses augmented reality technology to display markers and point out the exact location of the product on the shelf. When the phone is held down, a compass appears on the screen, pointing in the direction users should walk in order to reach their desired products.
With the app's help, shoppers no longer have to wander around the store aimlessly, trying to find the products they need.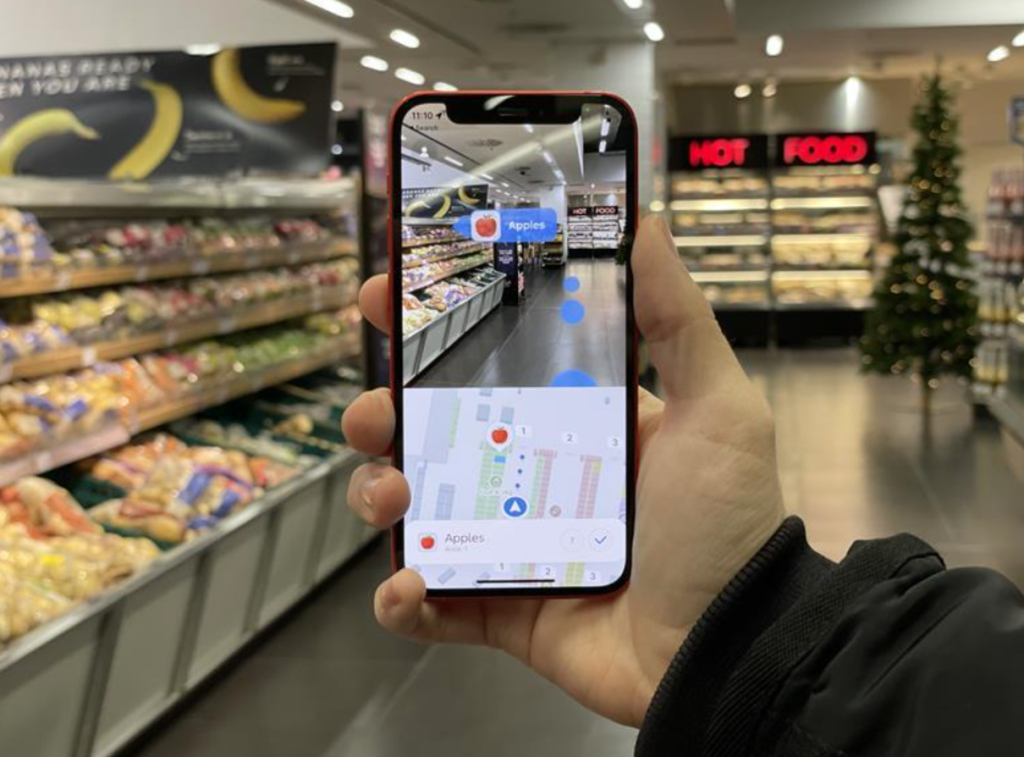 What's coming next:
The integration of AR technology in various aspects of retail, such as digital displays, try-on options, and navigation, is set to radically transform physical stores as we know them. It's only a matter of time before these immersive shopping experiences become the norm.
In-store shopping in the future has the potential to resemble something out of a science fiction movie – benefiting customers with the ability to make more informed purchasing decisions and enjoy an overall enhanced shopping experience.
Don't miss out on the AR revolution
AR technology is not a passing fad – it's poised to revolutionize the shopping experience in numerous ways, from enhancing customer engagement to facilitating personalized product recommendations. By leveraging AR technology, retailers can create more immersive and interactive shopping experiences that cater to the needs and preferences of their customers.
The digital revolution brought about by AR/VR technology has disrupted the traditional way we perceive and engage with the real world – and the retail industry is no exception. Now is the time for business leaders and brands to re-imagine the retail industry and catapult these new immersive shopping experiences into the future.
Share this story